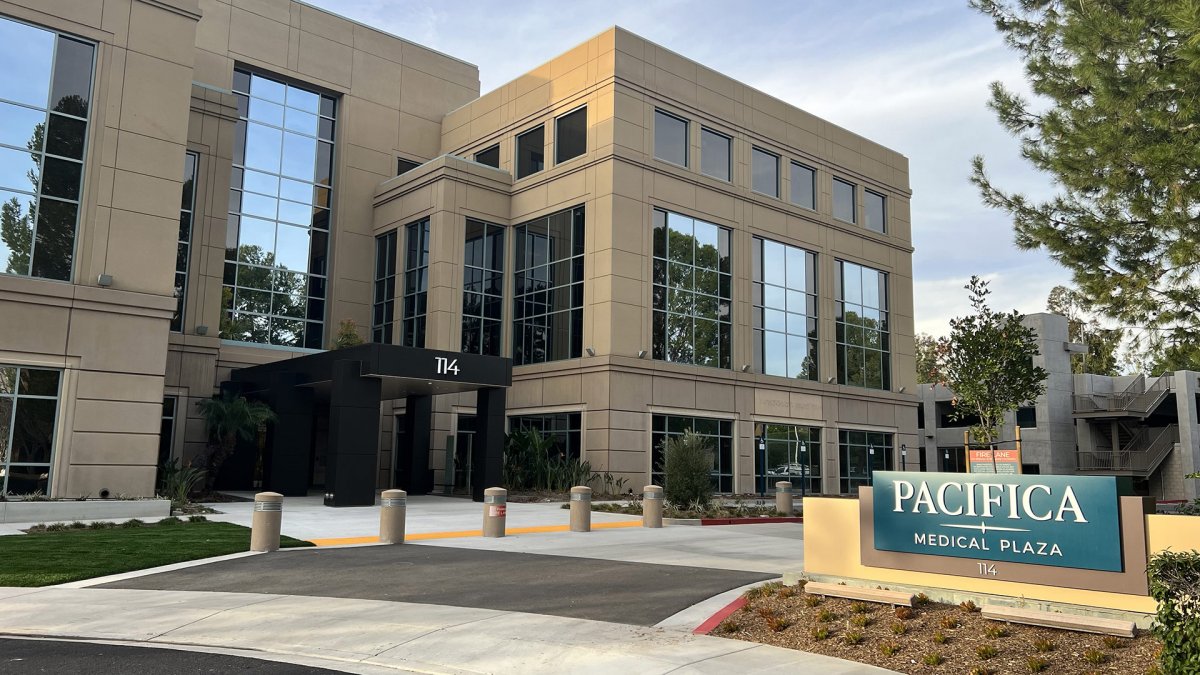 January 20, 2022
theregistrysocal.com
Meridian Completes Conversion of 114,200 SQFT Medical Office Building in Irvine
NEWPORT BEACH, CALIF. - Meridian, a full-service real estate developer and owner of medical office real estate, is pleased to announce that it has completed the conversion of a 114,200-square-foot, four-story Class-A office building into a 100% Class-A medical office building. The building is located in Orange County at 114 Pacifica Court in Irvine, California.
Meridian acquired the building in September 2020. "This was a very speculative project, but all of the fundamentals were in place to give us confidence in our business plan," said Meridian Vice President, Acquisitions, R.J. Sommerdyke. "In addition to being one of the fastest-growing cities in the state, Irvine has one of the tightest medical office markets in Southern California with extremely high barriers to entry."
Sommerdyke continues, "Pacifica Medical Plaza has great freeway visibility and large, flexible floorplates that can accommodate a variety of uses, such as surgery centers, imaging clinics, etc. These large blocks of space are rarely available in Irvine and are in high demand by medical providers looking to grow or consolidate space near their patients. We are thrilled to be able to provide the community the medical office space it needs."
The property sits on a 4.8-acre parcel bordered by the Interstate Highways 405, 5 and 133 within the Irvine Spectrum. "The property is centrally located to what is quickly becoming a medical hub in Orange County. City of Hope's $1 billion Cancer Center is slated to open this year and Hoag Hospital recently announced a $1 billion expansion project at its Irvine Hospital, which will double the size of that campus. Both projects are within 1.5 miles of Pacifica Medical Plaza," reports Sommerdyke.
"We have secured multiple leases to medical tenants and are in the process of negotiating several more leases, which will account for roughly 50% of the building," noted Sommerdyke. "Several tenant build-outs are already underway and first move-ins for medical tenants are expected to occur in April of this year."
According to Meridian Vice President of Construction, James Hawley, the medical office conversion required gaining entitlements and building a parking structure to increase the parking ratio from four spaces per 1,000 square feet to five.
"We were very committed to getting this project done quickly and safely," said Hawley. "We completed the three-level parking structure, which contains 324 parking spaces, in just seven months. In addition, we built a new entryway and canopy and have also expanded signage and branding. The first phase of common area improvements is ongoing and expected to be completed by this spring."
Meridian hired Snyder Langston and Choate Architects as design-builder of the parking structure, with Boulder Architects designing the interior improvements. The building has also been rebranded as Pacifica Medical Plaza.
"Now that the parking structure has been completed, the building is ready for medical occupancy. Pacifica Medical Plaza offers one of the only opportunities in the submarket for large blocks of contiguous space," said Sommerdyke. "The majority of the remaining space in the building is located on the first and second floors and can accommodate a tenant looking for 50,000-plus square feet."
Sommerdyke adds, "As expected, pre-leasing velocity has been very strong, especially given the challenges faced as a result of the pandemic and we're currently in discussions with a couple of different large users who are looking to expand their presence in this market."
The building is being marketed by John Wadsworth, Senior Vice President, and Aaron Phillips, First Vice President, both based in Colliers' Irvine office.
Meridian continues to be a very active investor and developer in the medical office sector. The company recently closed an $81.5 million acquisition in Beverly Hills and has nearly one million square feet in the development/redevelopment pipeline. According to Sommerdyke, Meridian will continue to pursue well-located healthcare opportunities across the western United States and Texas.
About Meridian
Founded in 1999, Meridian is a full-service real estate developer and investor specializing in high-quality, brand-enhancing developments with distinctive expertise in healthcare real estate. Meridian's services are broad in scope, but meticulous in detail — from site evaluation and land acquisition to entitlement and planning to construction management. For more information, see www.mpcca.com.
Source: https://theregistrysocal.com/meridian-completes-conversion-of-114200-sqft-medical-office-building-in-irvine/