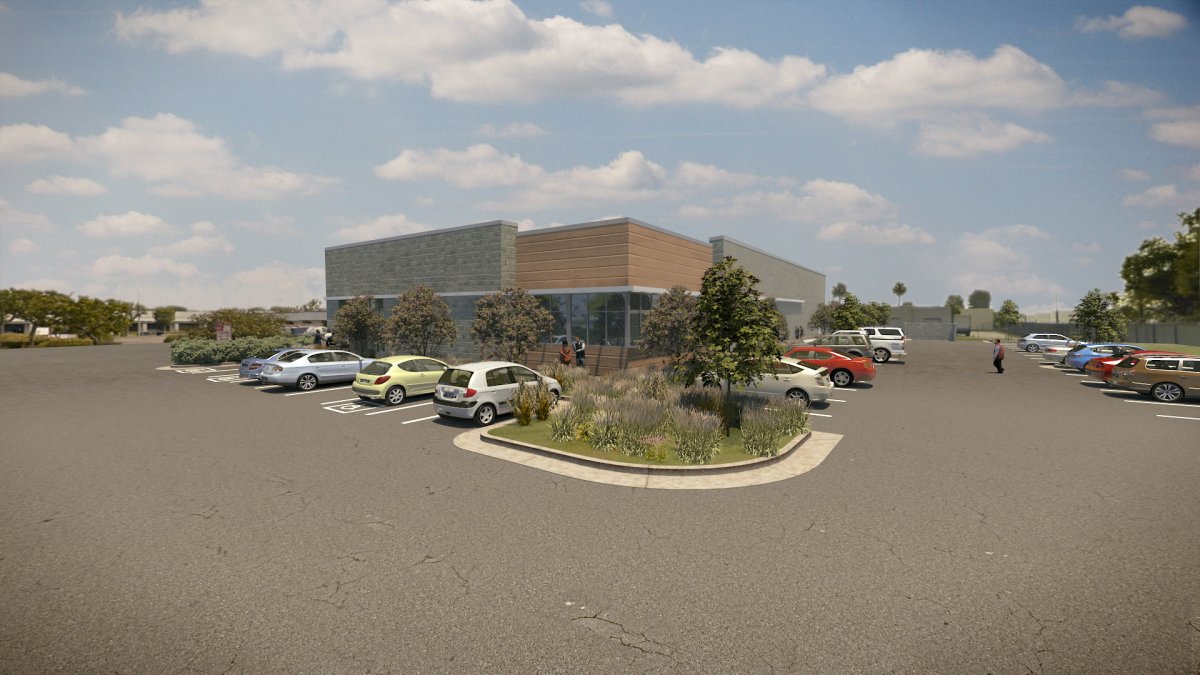 January 16, 2018
Monaghan Communications
Meridian Purchases 29,000 SF Parcel in Downtown Long Beach, CA to Build MOB
IRVINE, Calif. – Meridian, a full-service commercial real estate developer based in California, is pleased to announce the purchase of three existing buildings on five parcels totaling 29,000 square feet of land located in Downtown Long Beach at 1078-1090 Atlantic Boulevard. Meridian paid $2.45 million for the property, which is located across the street from Dignity Health's St. Mary's Medical Center, a 389-bed, Level II Trauma Center. Meridian plans to spend approximately $3.1 million on the development of a new, single-story 9,200-square-foot ambulatory, out-patient clinic.
"There are currently over 1,000 residential units and 700,000 square feet of commercial space either in the planning phases or under construction in the area," said Meridian's CEO John Pollock. "We felt this was a great time to build this clinic, which will provide life-saving treatment to patients in the area who desperately need this service."
The medical office building will house a dialysis clinic, which will provide treatment to patients who suffer from end-stage renal disease where their kidneys can no longer function on their own. "The clinic will bring highly skilled jobs to the area as well, including a nephrologist medical director, nurses, bio-technicians, facility administrators, and social workers. We're excited to bring this new opportunity to the community," said Pollock.
The project will include re-purposing an existing, two-story 8,280-square-foot building to a new 9,200-square-foot Type V-A single-story building that meets OSHPD 3 requirements. "We plan to preserve 50 percent of the existing exterior walls in order to maintain grandfathered status on legal non-conforming setbacks and parking," said Meridian's Senior Vice President of Development Mike Conn. "We will also abate all friable asbestos and lead-based paint, while concurrently performing shoring and restoration activities from a recent fire in the building."
Conn adds, "The exterior of the building will receive updated wall cladding and stone to match the building's current exterior, as required by the city. The remainder of the building will receive a new stucco finish, eyebrow canopies, and a new storefront entry. The project will also receive all new utilities, Title 24 energy upgrades, a new roof, new HVAC units, a new parking lot, and drought resistant, water efficient landscaping." Meridian will demolish two existing structures on site, and merge the lots to create a single parcel for the development.
"By working in collaboration with the city of Long Beach and surrounding community, Meridian was able to provide a comprehensive real estate solution for its end user in a dense, urban-infill submarket," noted R.J. Sommerdyke, Senior Acquisitions Manager at Meridian. "We specialize in unlocking difficult sites to provide patients and communities with access to care away from the traditional hospital setting. We are actively pursuing healthcare opportunities in the western region of the U.S., from Denver west."
Demolition will begin this month and construction will be completed by the end of the year. The value of the project upon completion is estimated to be $8.4 million. Becky Blair, President and Principal at Coldwell Banker Commercial in Long Beach, represented Meridian in the sale, and Dan Weil, Vice President at Colliers International in Los Angeles, represented the seller, a local private investor.
This is Meridian's second purchase in Southern California in two months, having closed escrow on a 57,000-square-foot medical office building in Orange County in October.
About Meridian
A division of Marcus & Millichap Company, San Ramon, California-based Meridian is a full-service real estate developer of innovative and integrated commercial office, and medical office, since its inception in 2000. Meridian's services are broad in scope but meticulous in detail — from site evaluation and land acquisition to entitlement and planning to construction and management. For more information, see mpcca.com.
Source: http://wolfmediausa.com/2018/01/16/news-release-meridian-purchases-29000-sf-parcel-in-downtown-long-beach-ca-to-build-mob-this-is-meridians-second-purchase-in-southern-california-in-two-months/